Anderson returns to Temple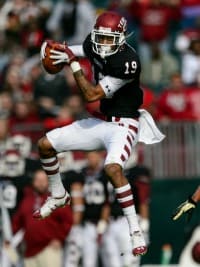 Anderson, who caught 44 passes for 791 yards and nine touchdowns in 2013, would provide a major boost to a Temple offense that missed him last season if he were to become eligible in time for the Owls' Sept. 5 opener against Penn State at Lincoln Financial Field.
Anderson missed the 2014 season after being dismissed from Temple for academic reasons and was initially in a situation that would not have allowed him to return to the university in time to complete his athletic career with the Owls. Now it appears the door is open for Anderson to re-enroll and potentially rejoin the team. Anderson, who spent the last year taking courses at a Florida community college, planned on playing football for Division II Florida Tech before learning recently that he would be able to re-enroll at Temple.
It is unclear at this point as to whether Anderson would have one or two seasons of eligibility remaining with the Owls.
Anderson burst onto the scene as a redshirt sophomore in 2013, Rhule's first season as Temple's head coach. While the Owls stumbled to a 2-10 season, Anderson's yardage total was the fifth-most in a season in Temple history, and his receiving touchdown total left him in third place all time.
The production came as a bit of a surprise at the time, considering Anderson had left the program due to personal reasons and did not return until the fall semester. And prior to his initial departure, Anderson had been practicing primarily as a defensive back during the spring before making the switch back to receiver.
Without Anderson last year, however, Temple's offense took a step back and averaged just 23.1 points and 200.7 passing yards per game. Walker, in particular, suffered from Anderson's absence and experienced drops in passing yards per game (231.6 to 193.1), passing touchdowns (20 to 13), yards per attempt (8.3 to 6.1) and quarterback rating (150.8 to 107.7). Meanwhile, Walker nearly doubled his interception total from eight in 2013 to 15 in 2014. Thanks to a stout defense, however, the Owls' overall record improved to 6-6.
So what could Anderson's return mean for Temple? Plenty.
Anderson's deep-threat capability could also draw away safety help and open things up for a Temple running game that finished ninth out of 11 American Athletic Conference teams in rushing offense at just 107.8 yards per game.