Gameday preview: Memphis
AT A GLANCE
Temple at Memphis
Saturday, Oct. 24
Noon., Liberty Bell Memorial Stadium
Television: ESPN+
Radio: 97.5 The Fanatic
HEAD COACHES:
Temple
Rod Carey
Career record: 61-36 (second season at Temple)
Memphis
Ryan Silverfield
Career record: 2-1 (first season at Memphis)
KEY PLAYERS
TEMPLE
QB Anthony Russo
RB Re'Mahn Davis
WR Jadan Blue
WR Branden Mack
DE Arnold Ebiketie
LB William Kwenkeu
SAF Amir Tyler
MEMPHIS
QB Brady White
RB Rodrigues Clark
WR Calvin Austin III
TE Sean Dykes
LB J.J. Russell
DB Quindell Johnson
WHEN TEMPLE IS ON OFFENSE
Temple doesn't believe it needs to get into a shootout, even if Memphis is coming off of one.
Memphis' weakness on defense is rooted in defending the pass. Through three games this season, the Tigers have allowed opposing quarterbacks to pass for 458 yards per game and they have the nation's 77th ranked passing defense. Just last week, UCF's Dillon Gabriel completed 35 of 49 passes for 601 yards and five touchdown passes en route to being named the American Athletic Conference's co-Offensive Player of the Week.
While Temple has yet to put up those types of numbers, it's still moving the ball efficiently through the air, as the Owls have the nation's 28th-ranked passing offense to show for it.
Leading the way for the Owls is Anthony Russo, whose play through two games can be described as one word -- maddening. Despite his three interceptions, head coach Rod Carey believes Russo has played at a "high-level," and was worth mentioning when discussing the quarterback play in the AAC. The graduate quarterback led the Owls to their first win of the season against USF, helping Temple erase an 11-point deficit to pull off a 39-37 victory.
Russo completed 30 of 42 passes for 270 yards and four touchdowns. On the season, Russo has now completed 51 of 72 passes for 476 yards and five touchdown passes. On the ground, he's also added 14 rushes for 33 yards and two touchdowns. He was able to show off his mobility at Navy with multiple red-zone rushing touchdowns but was mostly held in check against USF.
Decision making has been Russo's biggest bugaboo during his time under center for the Owls. In Temple's win over USF, Russo threw two interceptions, both of which were intended for Branden Mack, but it very well could have been three. One was overthrown on a back-shoulder pass that was thrown behind Mack and tipped off his right hand into the waiting arms of USF's Mekhi LaPointe. The other interception, which should have been negated by a pass-interference penalty, was an underthrown pass in the direction of Mack, who has caught two of Russo's five touchdown passes this season.
On the season, Mack has 10 catches for 109 yards to go with his two touchdowns. He'll look for a bounce-back performance against Memphis, a team he's had success against in the past after catching just three passes for 29 yards and a touchdown last week. In Temple's 30-28 win over Memphis last season, Mack had nine catches for 125 yards and a score, including a 12-yard touchdown reception that gave Temple a 30-21 lead it didn't relinquish.
Fast-forwarding to 2020, Russo and Temple's wide receivers alike will have to be wary of Tigers' defensive back Quindell Johnson. The redshirt sophomore has 26 total tackles, 0.5 tackles for loss, three pass breakups, one forced fumble and one fumble recovery on the season. Also, Tigers senior linebacker J.J. Russell is fourth on the team in total tackles with 12, while redshirt junior linebacker Xaiver Cullens is tied for fifth on the team with 11 total tackles.
In terms of Temple's remaining weapons offensively, Russo was able to spread the ball around, connecting with six different receivers against USF. Randle Jones led the way with eight receptions for 81 yards and a score, earning an AAC honor roll recognition for his performance. Jones has been Russo's go-to target when Temple looks to move the chains this season. Against USF, seven of Jones' eight catches resulted in first downs. In Temple's opener vs. Navy, all four of Jones' receptions led to first downs.
Jadan Blue leads the Owls in receptions through two games with 14, to go along with 100 yards receiving and two touchdown receptions. Against USF, Blue corralled nine catches for 60 yards and two scores. He needs just three receptions and 48 yards against Memphis to move into 11th and 21st all-time, respectively, in program history.
Tight end David Martin-Robinson has been another core piece in Mike Uremovich's pass attack. The redshirt sophomore is third on the team in receiving yards with 108 and has helped soften the blow with the loss of Kenny Yeboah to Ole Miss.
"From an offensive standpoint, their quarterback [Russo] is efficient. He does things the right way," Memphis head coach Ryan Silverfield said Monday. "They've always hung their hat on being able to pound the rock throughout their various staffs that have been there. I know their offense gives people fits…They're gonna battle, they're going to give us everything they've got, that's for sure."
Through the first two games of the season, Russo has been kept upright in the pocket. Temple's offensive line has not allowed a sack and is currently the No. 1 pass-blocking unit in the nation, according to Pro Football Focus. Northern Illinois grad transfer C.J. Perez is ranked as the 12th-best center in the nation in pass blocking, while Vincent Picozzi ranks ninth among offensive tackles in the nation.
While Picozzi has been a stout presence at left tackle, there's a possibility he could shift over to right guard for Saturday's game. Adam Klein missed Temple's first game at Navy with an undisclosed injury suffered in practice in the week leading up to the game. Klein was back in the lineup for the Owls' second game but hobbled off the field with a lower-body injury early in the fourth quarter. While he did return to Temple's win over USF, Carey listed him as "very questionable" for Saturday.
If Klein can't play, Isaac Moore would likely replace him in the starting lineup instead of Leon Pinto, who started in place of Klein against the Mids. Moore saw 29 snaps in relief of Klein and graded out as Temple's best offensive player (85.2) and as the third-highest graded offensive tackle in the nation in Week 7, according to PFF. It's worth noting that Wisdom Quarshie is listed as Klein's backup on Temple's two-deep depth chart. The redshirt freshman offensive lineman did see some snaps at right guard in place of Klein against USF.
Through two games, Re'Mahn Davis has been the Owls' bell-cow back, with Tayvon Ruley spelling him.
The sophomore running back leads the conference in average rushing attempts per game with 24, though he has not been as effective throughout the first two games as his head coach would prefer. Against Navy, Davis had 23 carries for 97 yards and a touchdown, and he followed up that performance with 25 carries for 83 yards against USF.
"I told Ray that I think he was trying to hit a home run early in the game and missing some tough yards," Carey said of Davis' performance against USF. "I think he got going and got some tough yards there and if he would've done that early, a home run would've come, or at least an explosive one, which is 10 yards or more. I was not real pleased with that early, but he responded and Ruley did a nice job of getting those tough yards and being explosive. We'll look to get him in there, too."
Ruley has been more efficient than Davis in the running game thus far. The redshirt senior running back out of Valley Forge Military Academy has 11 carries for 85 yards, averaging 7.7 yards per carry, breaking off runs of 16 and 30 yards, respectively.
Memphis's run defense is ranked 28th in the nation, allowing opposing rushers to run for 132.3 yards per game. Between Greg McCrae, Otis Anderson and Gabriel, Memphis allowed UCF to rush for 197 yards on 47 carries and two touchdowns.
Temple may look to jumpstart its offense by getting the running game going, which is something the Owls have hinted at since the preseason. Through two games, Temple has the nation's 45th-ranked rushing offense, averaging 156 yards per game, but the Owls have been forced to play catch up in both of their games this season.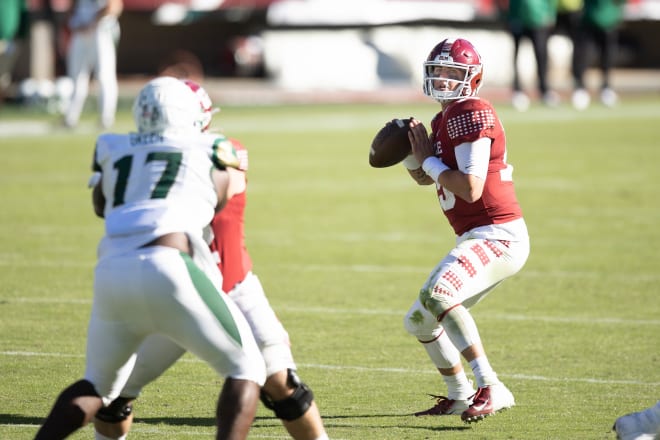 WHEN TEMPLE IS ON DEFENSE
Temple's toughness is generally rooted in its defense, but through two games, the unit has proven to be a bit inexperienced and inconsistent.
Through three games, Memphis' offense is lighting the world on fire. They're ninth in the nation in total offense and own the country's 17th-best scoring offense, averaging 38 points per game.
The Tigers totaled 703 total yards (486 passing, 217 rushing) in their 50-49 come-from-behind win over UCF. With sixth-year senior Brady White dialed in, Memphis was able to erase a 21-point deficit, the largest comeback in program history.
White threw for 486 yards with six touchdown passes, one rushing touchdown and zero interceptions. He set a program record for passing yards in a single-game and tied the record for most touchdowns in the game. For his performance, White was named the AAC's co-Offensive Player of the Week with Gabriel, in addition to being named the Walter Camp National Offensive Player of the Week.
Last season at Temple, White completed 28 of 43 passes for 363 yards with two touchdowns and an interception. He was picked off by former Owls cornerback Harrison Hand, now of the Minnesota Vikings. Despite bending, but not breaking, against White and his ability to take over a game, Temple has a combination of experienced cornerbacks matched with inexperienced safeties. Memphis currently has the eighth-best passing offense, ranking sixth in completion percentage and ninth in passing efficiency in the FBS.
With that, Amir Tyler is coming off probably the best game of his Temple career. Playing in all 80 of the Owls' defensive snaps, Tyler bounced back after allowing a 13-yard touchdown pass to USF junior wide receiver Randall St. Felix. He made arguably the biggest play of the game, combining with redshirt junior linebacker George Reid, blowing up the game-tying 2-point conversion behind the line of scrimmage.
While junior safety Jalen Ware played 77 snaps at the field safety position, he received the lowest PFF grade in coverage. Also, Elijah Clark struggled in a rotational role, allowing two catches on two targets for 37 yards and a score. As for Temple's top performers in the secondary, neither Freddie Johnson nor Christain Braswell gave up a catch this past Saturday. Graduate cornerback Kimere Brown saw his most action since returning from a season-ending injury that cost him the 2019 season.
Temple has the nation's second-ranked passing defense, but it's a bit misleading. Navy attempted just two passes in its win over Temple, while USF's quarterback Jordan McCloud completed 15 of 26 passes for 182 yards and three touchdowns. While McCloud is an athletic quarterback who is evasive and shifty, he isn't known for his arm. The Owls did give him the benefit of the doubt working with a short field. Still, Temple's secondary will have its hands full with White on Saturday.
In front of White, Memphis' offensive line has a bit of a new look following the departures of Dustin Woodard and Scottie Dill. A lot like Temple, all three returning offensive lineman are playing different positions, with only one of the Tigers' offensive lineman -- Obinna Eze -- starting at a position he has any experience at, which is left tackle. As for Manuel Ornona-Lopez, he's made three starts at center after collecting 14 starts at right guard in 2019. Dylan Parham has made three straight starts at right tackle after starting 28 consecutive games at left guard for the Tigers.
In terms of getting after the quarterback, redshirt junior defensive end Arnold Ebiketie is coming off a game that landed him the AAC's Defensive Player of the Week award. Ebiketie finished Saturday's contest with six tackles, including a sack, a forced fumble and 3.5 tackles for loss. He delivered one of the biggest defensive plays of the game with his fourth-quarter scoop and score, which gave Temple a 32-31 lead over USF.
Memphis has dealt with a bit of reshuffling as far as its skill players are concerned. Kenneth Gainwell, who was a favorite to win the conference's Offensive Player of the Year, opted out of the 2020 season due to COVID-19 concerns. Gainwell was supposed to be the lead back for the Tigers with both Antonio Gibson and Patrick Taylor leaving for the NFL, but that job belongs to redshirt freshman Rodrigues Clark, who was only named the starter a couple of weeks before the season. Clark rushed for a career-high 112 yards on 21 carries against UCF.
Clark has now rushed for over 100 yards in two of three games this season and he is fourth in The American in rushing this season with 315 total yards on 57 carries. Complementing him in the backfield is redshirt junior Kylan Watkins, who has 184 rushing yards on 34 attempts and a touchdown. Against UCF, Watkins had 10 carries for 64 yards and a long run of 30 yards.
Memphis currently has the nation's 14th-ranked rushing offense, averaging 214.5 yards per game on the ground. Temple is allowing 197 yards per game on the ground, which is 61st in the FBS. Something will have to give on Saturday and players like Ifeanyi Maijeh, Dan Archibong and Khris Banks will need to step up for the Owls.
Temple was gashed by Navy for 251 yards on the ground, led by senior fullback Nelson Smith, who took 20 carries for 120 yards and two scores. While Temple's defense was better against the run against USF, the team still struggled to contain Bulls sophomore running back Johnny Ford, who tallied 206 all-purpose yards, including 68 yards rushing on 15 attempts.
Out wide, Calvin Austin III, a former walk-on, has turned into a playmaker for the Tigers. In Memphis' win over UCF, Austin set career highs in receptions (nine) and yards (151) and matched a career-high in touchdowns with two. On the season, Austin has 18 receptions for 240 yards and four touchdowns. In addition to his success on the football field, Austin is an All-American with Memphis' track and field program.
In addition to Austin, Tahj Washington had a career day against UCF. He also posted a 100-yard effort, with a career-best receiving day of seven receptions for 131 yards. On the season, the redshirt freshman wideout has 10 receptions for 149 yards and a touchdown.
Austin and Washington are a part of a receiver group that had to immediately step-up against UCF after the team's leading receiver, Damonte Coxie, elected to opt-out of the season to focus on his NFL prospects. In just two starts, Coxie had 16 receptions for 175 receiving yards and a touchdown. For his career at Memphis, Coxie had 185 career receptions for 2,948 yards and 20 touchdowns in 30 starts, before he decided to opt-out.
Making his first career start in place of Coxie was Javon Ivory, who added four receptions and 88 yards against UCF. In the absence of both Gainwell and Coxie, Memphis has relied upon unlikely contributions.
That's been the case for Temple on the defensive side of the ball in its win over USF. In addition to Ebiketie, Reid had a career day in place of an injured Isaiah Graham-Mobley. The graduate linebacker and single-digit recipient tweaked his surgically repaired ankle in pregame warmups and was unable to play through the pain. Carey listed Graham-Mobley as "very questionable" and if he cannot go, a surging Reid will likely start in his place. After being charged with a pass-interference penalty, Reid bounced back with a fumble recovery, a sack and an onside kick recovery, which sealed Temple's win over USF.
Lining up next to Reid or Graham-Mobley at the "Mike" linebacker position will be William Kwenkeu. He didn't get off to the hottest start against Navy, but he appears to have turned things around with his performance against USF. Kwenkeu played all 80 of Temple's defensive snaps, recording two pressures, a sack and five stops, according to PFF.
Someone who may give Temple trouble over the middle of the field is Sean Dykes. The redshirt senior tight end is Memphis' leading receiver with 22 catches for 279 yards and four touchdown catches this season through three games.
WHEN TEMPLE IS ON SPECIAL TEAMS
A cause for concern for the Owls is their special teams unit, which drew much-deserved criticism after a lackluster performance against USF.
Carey implied that Temple could be making a change at kickoff specialist this week with Will Mobley struggling to get much out of his kicks. Rory Bell will likely get the chance against a Memphis team that is a bottom-10 team in the nation in terms of return yards.
In addition to Bell, the Owls are seemingly giving a lot of opportunities to true freshmen on the third unit, getting fresh legs out there. Kobe Wilson, Muheem McCargo, Trey Blair, Alex Odom and James Della Pesca all recorded snaps in Temple's win over USF as the team is looking for more from its players on Special Teams.
While Temple couldn't get much right on special teams last week, Adam Barry had one of his better games since arriving at Temple. Barry punted four times for 160 yards, but just one of his punts was returned and it went for just two yards. Three of Barry's four punts were downed inside the 20.